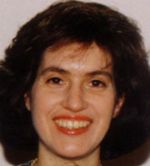 Nechoma Greisman constantly helped others. Through her counseling, her inspiring and enlightening classes, or just by offering a friendly hand when needed, Nechoma used her every moment to its fullest potential.
For many years, women from all walks of life eagerly attended her weekly classes in Jerusalem on understanding the Torah and making it relevant to their lives.
They consulted with her regularly about all the issues that touched their lives—always coming away feeling personally infused with her inner light, her profound faith in G-d and her deep love and compassion for the Jewish People.
Nechoma Greisman was a dedicated and happy wife and mother who enjoyed making a comfortable and pleasantly organized home for her family.
In 1992, Nechoma Greisman passed away, at the age of thirty-nine.
Nechoma Greisman is missed by all those who were warmed by her compassionate encouragement, her wise counsel, her enthusiastic outreach work, and her consistent happiness.
Her life was an inspiring example of a great Jewish woman, wife and mother. She continues to be a role model to those who knew her, and a source of encouragement to those who have heard about this very special woman.